EverDrive N8 PRO
Features
Cyclone IV FPGA.
Hard gold plating for cartridge contacts
16MB of ROM memory. 8MB for PRG and  8MB for CHR.
256K of battery ram for saves.
Real time clock for logging date and time of saves.
High quality 6-layers PCB.
ARM based 32bit I/O co-processor for SD and USB operations acceleration.
Up to 1024 files per folder, or unlimited if file sorting disabled.
In-game menu. You can save game or return to system menu without physical reset.
Multi slot save states. 100 independent slots for save states.
Instant ROM loading.
USB port for development and system update without removing micro SD card.
Improved audio mixing circuit with op amp.
Dedicated button, which is used for swap FDS disk side or as alternate method to call Save State menu.
Built-in NSF player with expansion chips support (VRC6, VRC7, Sunsoft-5b, Namco-163).
Battery voltage monitoring. Battery can be replaced in time if it going dry.
Ultra low battery ram consumption. Estimated battery life 25 years.
Wide range of supported mappers.
NES2.0 partial support.
Game Genie cheats support.

Downloads:
OS Update
USB tool
Development resources (Github)
User manual
We do our best to ensure that our devices are compatible with various console clones and modified systems, but we cannot guarantee compatibility with all of them, especially modern clones released after our device.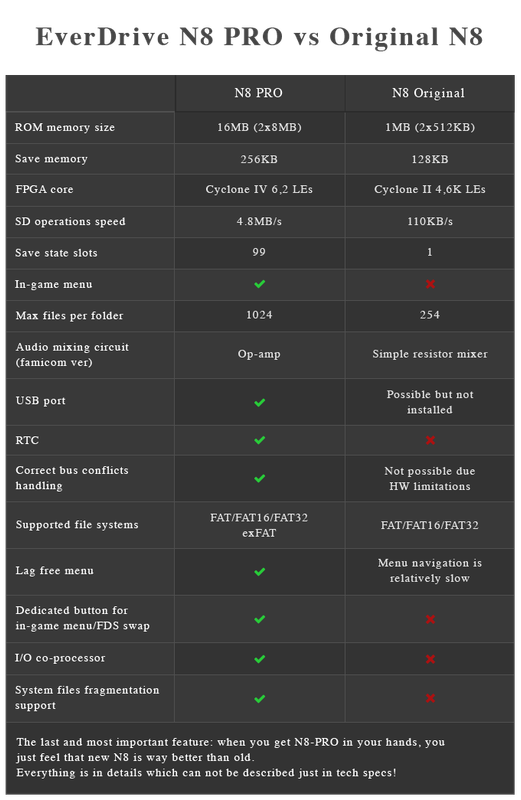 Reviews
This is the second addition to my collection gotta get em all.
Imagine having all your childhood games conveniently on one cartridge. Imagine a magic sequence of buttons you press that brings up options to save or restore previously saved games.
Very awesome product and worth every penny!